HORSEFACE: JÄÄKAUSI LP (diskret #11)
150,00

kr
On sale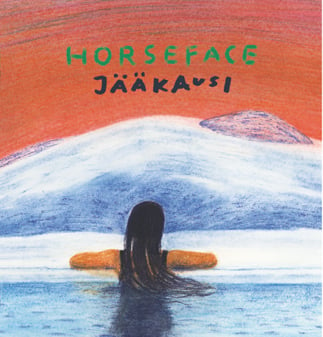 Jääkausi, which translates to ice age from Finnish, is the full-length debut of Horseface from Umeå, in the north of Sweden.
Their sound is akin to their post punk predecessors, but with a curious ear for the new sounds of global pop. Repetitive melodies are interwoven with homegrown poly rhythms. Beats and samples are layered with drums, guitars, synths and violin. Traces of influences like the Raincoats, Naffi Sandwich and the Flying Lizards can be heard, filtered through an outsider view of the finnish new weird movement of the early 00's.
Jääkausi is a collection of songs that depict euphoria, sadness and life in a cold society. The lyrics are all sung in Finnish, Sweden's largest minority language, often only spoken at home, due to the pressure to adapt to majority society. Choosing to sing publicly in one's mother tongue serves as a statement, especially in times of protective nationalism.
The vinyl record is produced with the kind support of The Swedish Arts Council.
Track list:
No niin, jääkausi
Omistaa
Kentauri, text Pentti Saarikoski
Jatkuu ja jatkuu
Prinssit ja paavit
Silta romahtaa
Oot sää
Loppu lähestyy
Cover Art by Siri Ahmed Backström
Limited edition: 250 ex